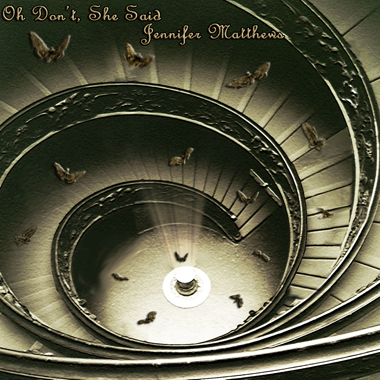 Oh Don't, She Said ~ by Jennifer Matthews
Jennifer wrote this song after her friend and notable poet, Doug Holder, showed her
his poem: "Oh don't, she said, it's cold." After reading it, Jennifer felt inspired and
heard a song in it. She had to change some of the words to make it work lyrically with
the music, but she made sure to stay close to the original poem as much as possible.
Jennifer played all the instruments on it and engineered it. It was mixed by Phil Greene
at Normandy Sound, who worked with the likes of Mick Jagger, Bruce Springsteen and
many, many other noted artists. Doug wrote it after a conversation he had with his mother
while riding on a train to New York City. It is dedicated to her, Rita Holder.
It is was the first of her 'Poetry to Music' series. If you are a poet that is interested in
this series please contact: jennifer@jennifermatthews
Cover Photo: Jennifer Matthews Cover & CD Graphics: Rose Gardina